The mission of the California Breast Cancer Research Program is to prevent and eliminate breast cancer by leading innovation in research, communication, and collaboration in the California scientific and lay communities.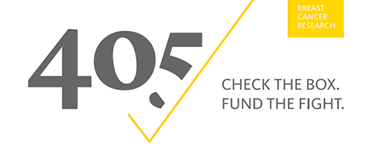 ---
California Breast Cancer Research Program Awards Over $5 Million in 2013
In 2013, the California Breast Cancer Research Program granted over $5 million in research awards that will advance our knowledge about the prevention, detection, treatment and community impact of breast cancer. These awards included grants supported entirely or in part by Californians who contributed to the California Breast Cancer Research Fund on their income tax form. The projects they supported include:
Intranasal Drug Delivery for Brain Metastatic Breast Cancer
Axel Schonthal, University of Southern California
Meeting the Self-Care Needs of Latinas after Breast Cancer
Anna Napoles, University of California, San Francisco and Carmen Ortiz, Circulo de Vida Cancer Support and Resource Center
Vitamin D Signals Via a Novel Pathway to Inhibit Metastasis
Brian Feldman, Stanford University
Learn more about these awards and all of the CBCRP funding this year in our 2013 Compendium of Awards
QuickStart Training Program Launches Summer 2014
CBCRP, Commonweal, and Plumbline Coaching and Consulting invite you to apply to QuickStart, a training opportunity in community based participatory research in breast cancer, the environment and disparities. Learn about the program, informational webinars and how to apply on our QuickStart page.
Commemorating 20 Years of Innovative Research

Twenty years ago, the state of California became a leader in breast cancer research and policy by creating the California Breast Cancer Research Program (CBCRP). The women and men who fought to build the CBCRP envisioned a dynamic, responsive, and highly innovative program. This video describes how we honor their dreams and share their sense of urgency as we continuously seek ways to make the greatest impact against breast cancer.